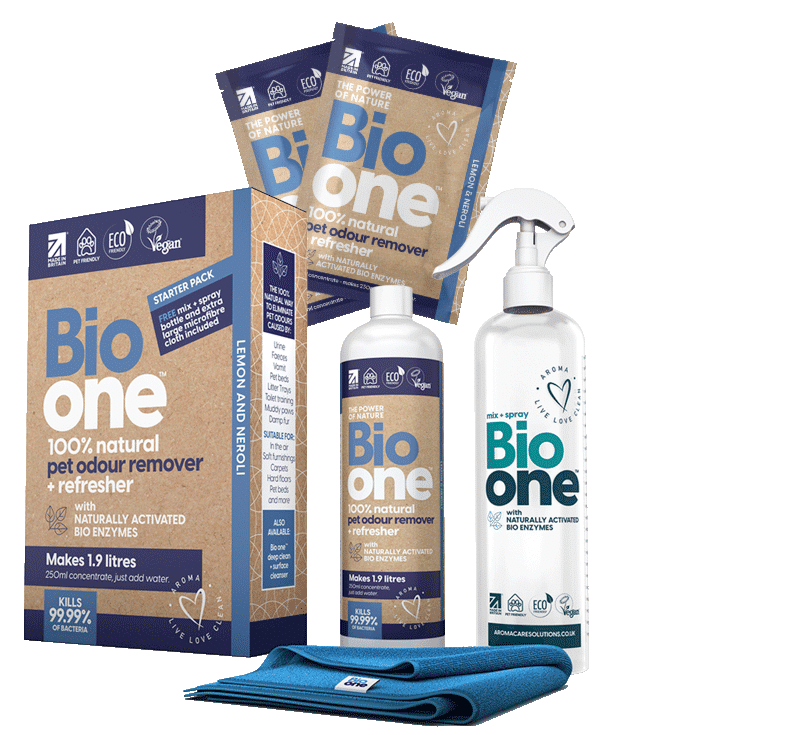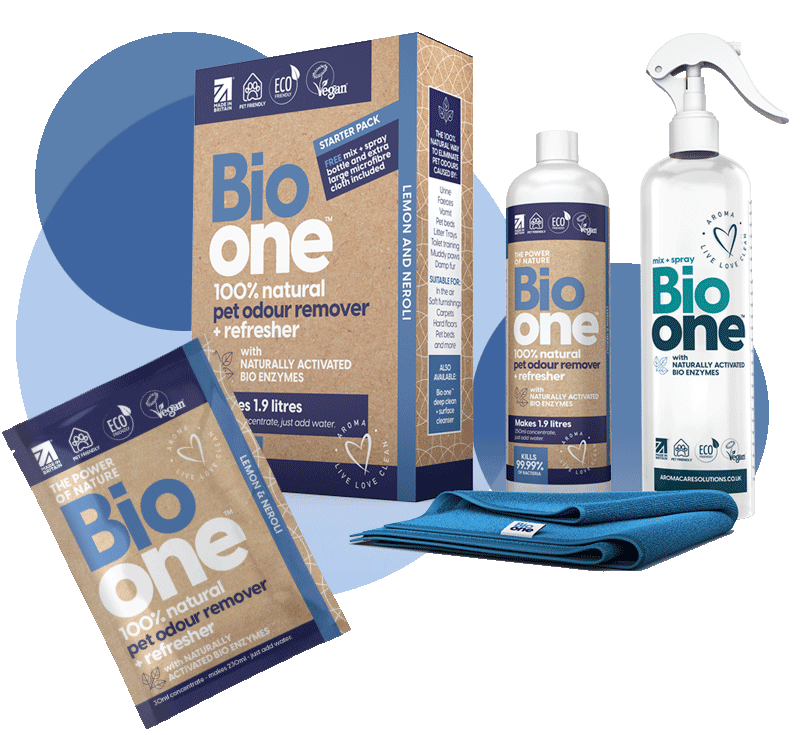 Launching in stores
Become one of our first independent stockists.
We are em'bark'ing on an exciting journey and would love you to 'lead' the way! After huge online success, Bio one Pet is launching into retail and we are looking for exclusive independent pet stores to come along on a 'walkies' with us.
Register your interest

Pet odours

eliminated

100% naturally
Leading the pack
Our exclusive range of 100% natural pet odour remover and surface refresher has been taking the UK market by storm. Developed with the power of nature's own cleaning science, our cleaning concentrate uses naturally activated bio enzymes to completely eradicate – not mask – the bad odour left behind from animal urine, faeces, vomit, wet fur, muddy paws, litter trays, pet food and more.
Suitable and safe to use around Cats, Dogs, Birds, Hamsters, Rats, Guinea Pigs, Rabbits, Snakes, Horses, Reptiles, Chickens etc. Safe to use all around the home, on hard and soft surfaces, pet beds, litter trays, pet cages, in the car, carpets, sofas and more.



Find out more about how enzymes clean
Love Enzymes
Great benefits for retailers
Benefits
Benefits to retailers
Be one of the first independent retailers to stock Bio one Pet Odour Remover and Refresher in the country, and in return we will give you some great benefits.
---
RRP price of £4.99 per sachet
Wholesale/distributor price £xxxxxx per sachet, giving you a XX% return.
RRP price of £18.95 per starter pack
Wholesale/distributor price £xxxx per starter pack, giving you a XX% return.
RRP price of £32.25 per Eco refill
Wholesale/distributor price £xxxxx per starter pack, giving you a XX% return.
Live Love Clean
Featuring Bio one Pet Odour Eliminator
5 stars reviews, but don't take our word for it.