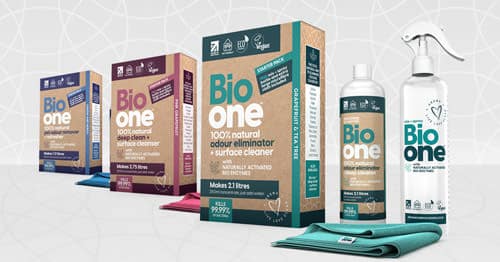 Kills 99.99% Bacteria - without chemicals
How natural enzymes remove dirt, bacteria - and the odour too!
The science of nature's clever cleaning
---

Bio one is 100% natural, safe for kids, babies, pets and the environment. Vegan Society approved and chemical FREE.

We have harnessed the science of nature's own cleaning, enzymes, to bring you a range that is powerful yet kind, and not just because we say it – but because science says it! Enzymes love to consume any carbon based matter, so is a powerful solution for human or pet urine, faeces, vomit, milk, mould, grease, odours, drains, bins, litter trays, nappy bins, dirt, wet fur odour, old food etc. Essentially anything that is going to get smelly or dirty, our enzymes love.

Wake the enzymes
- just add tap water.

Just add

+ water =

to make 8 x 250ml bottles!

250ml of Bio one™ deep clean + surface cleanser concentrate, mixed with tap water, makes 2.1 litres of cleaning formula.
The Science
Nature's natural enzymes are no secret amongst the realms of the cleaning, manufacturing and agriculture world. Enzymatic cleaning has been unearthed by eco-conscious souls and thoroughly researched and recognised over the years. We could give you a science lesson and delve into the whole organic process step by step, but take our word for it, and we won't bore you with the slides!
Eager to live more responsibly, enzyme cleaning is becoming more and more popular around the world as eco-passionate people discover a better, healthier way of cleaning. Our products are designed simply- we apply the same science that nature uses.
Enzyme cleaners are great for odour and deep cleaning because they have the ability to break down the organic compounds found in urine, faeces, vomit, milk, grease, mould, etc that cause unpleasant smells around the home. The enzymes in Bio one specifically target the proteins present in these substances, effectively breaking them down into smaller, odourless molecules. Unlike traditional cleaners that may mask or temporarily cover up the smell, enzyme cleaners actually eliminate the source of the odour by naturally breaking it down. And in the case of pets, this enzymatic action not only removes the smell but also helps to prevent pets from remarking the same spot. Enzyme cleaners are a reliable and effective solution for tackling odour problems and for targeting deep cleaning jobs, in order to maintain a fresh and clean environment.
Our Bio one cleaning range does not cause skin irritation or environmental issues. This is a natural cleaning life hack to substitute harsh chemicals such as the ones used in bleach, soaps and detergents.
Shop Bio one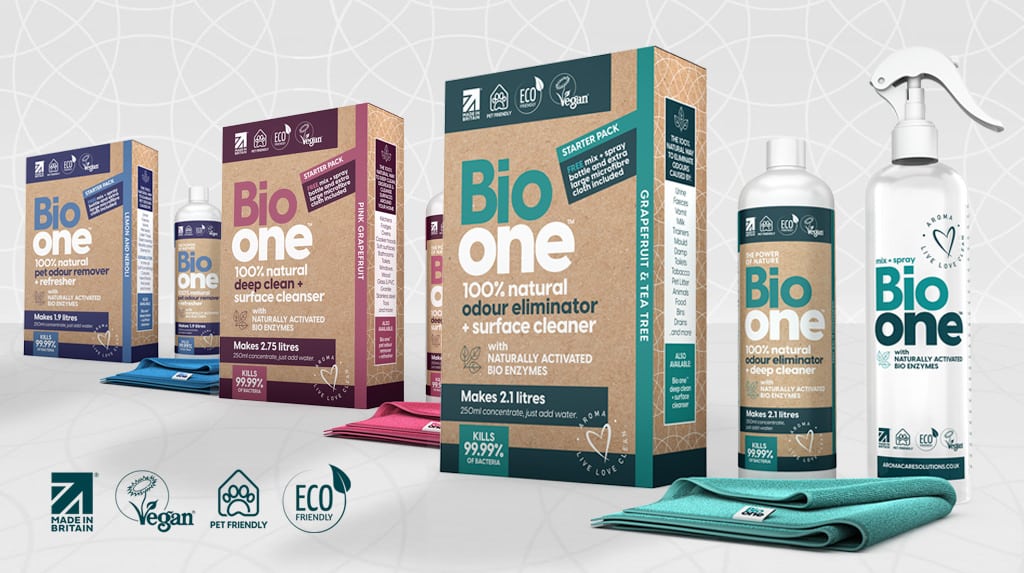 FREE DELIVERY
Bio one™ Starter Pack
Our fantastic starter packs includes everything you need to get started. Includes Bio one 250ml concentrate plus a FREE mix + spray bottle and extra large professional microfibre cloth. Plus get free delivery!
BUY NOW
The Process
Firstly, get mixing! Gently start to wake those enzymes up by adding a small quantity of Bio One to your mix + spray bottle (or any spray bottle you have to hand), top up with normal tap water and shake well to activate. This will 'power up' your freshwater with millions of multiplying enzymes.
Bio One conveniently comes in a concentrated form, so one bottle will last a long time- helping to reduce plastic waste.
Then – the secret to getting the most use from your enzymes is to keep the surface damp and to give it enough time to get to work. If allowed time to dwell these grime hungry enzymes biodegrade dirt, melt away stubborn grease stains, eliminate odour and airborne smells. Whether it's on upholstery or hard surfaces, these enzymes aren't fussy. Just ensure you have thoroughly scraped or blotted the area first and then liberally spray. Leave the spray to set in for five minutes (if not longer) to give the enzymes the chance to do their job. As it's mostly made up of water you can spray as much as you like. Your super spray continues to work for up to 24-48 hours once spritzed.
The enzymes used are harmless bacteria derived from nature. They biodegrade and break down dirt fast, all you must bear in mind is, so long as the area remains damp, it's working.
Eco-conscious!
Even our packaging is recyclable – and our labels are made with special pulp and eco glue that dissolves away at the recycling plant. We multiply enzymes – not waste!
Shop Bio one
---
Bought the Bio enzyme cleaner after researching cruelty free products and reading other reviews for this. I needed it for cleaning my dog and cat smells!! It smells gorgeous and it definitely works. Would highly recommend and I will be buying again!

Anonymous

Aroma Cares Customer
Made a big difference to my carpet, took the doggy smell away.

Linda Roberts

Position

Love
cleaning green.