Kills 99.9% of bacteria
Eliminate pet odour and clean up the happy little accidents with the power of enzymes.
Powerfully eliminates pet odours from urine, faeces, vomit, wet fur, old age, illness and stains. 100% natural enzymes, safe to use all around your home on hard and soft surfaces including pet beds. Safe to use around children. Free from chemicals and toxins.
GET ENZYME POWER NOW
Odours be gone

with Bio one™
Live Love Clean
Featuring Bio one Pet Odour Eliminator
Pet odour eliminator
We all love our pets, but we don't love the inevitable pet odours and pet stains that they bring into our homes. There's no avoiding pet odour, whether it's a new puppy, grown-up pets, ageing cats and dogs, birds, rodents, or exotic animals, each has their own distinctive odour.
It's not just your treasured friend, their pet food, pet beds, pet enclosures and cat litter trays all have different odours that we'd prefer to banish for good. No matter how often you clean, pet odours keep coming back, they can't help it, but we can do something about it with Bio one, the pet enzyme cleaner.
Every pet comes with their own unique challenge and odour, from the unmistakable smell of cat urine to wet dog odour, and litter box smells. Guests can usually tell if you have a pet by the smell of your home when they first enter, you may have noticed this when you visit family or friends who own a pet. This is where we come in, remove those distinctive odours for good with our specially formulated Bio one™ pet odour remover, it's a game-changer for animal lovers everywhere!
Blended with the natural oils of lemon and orange, with added neroli flower, Bio one is a permanent pet odour eliminator that leaves your house smelling great, guests will be surprised when your beloved pet comes to greet them. Bio one is completely natural and safe to use around pets. You can use it on pet beds, sofas, as a pet carpet cleaner, in the car and even on your pet's litter tray.
All the joy of your pet – with none of the associated odours.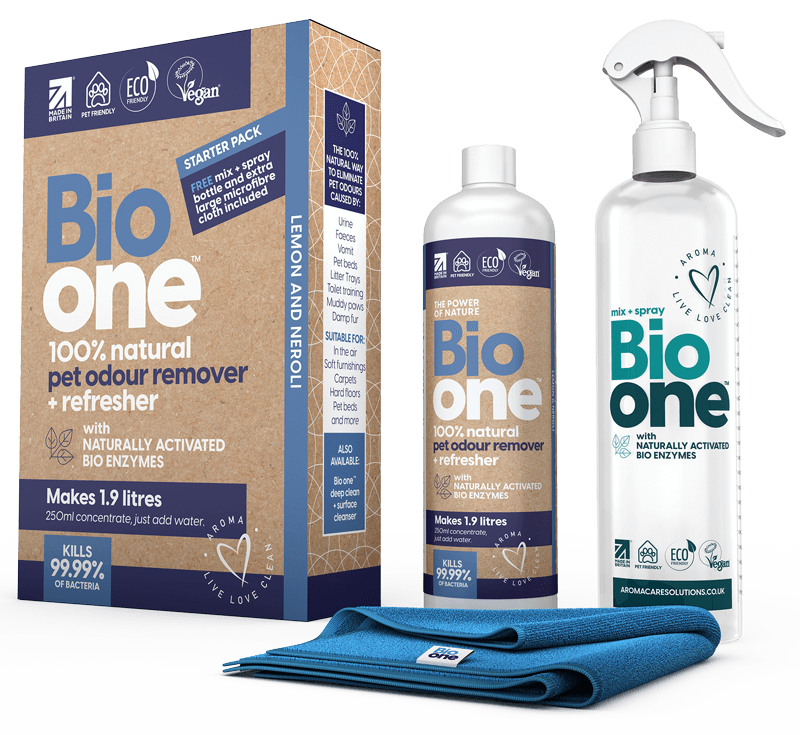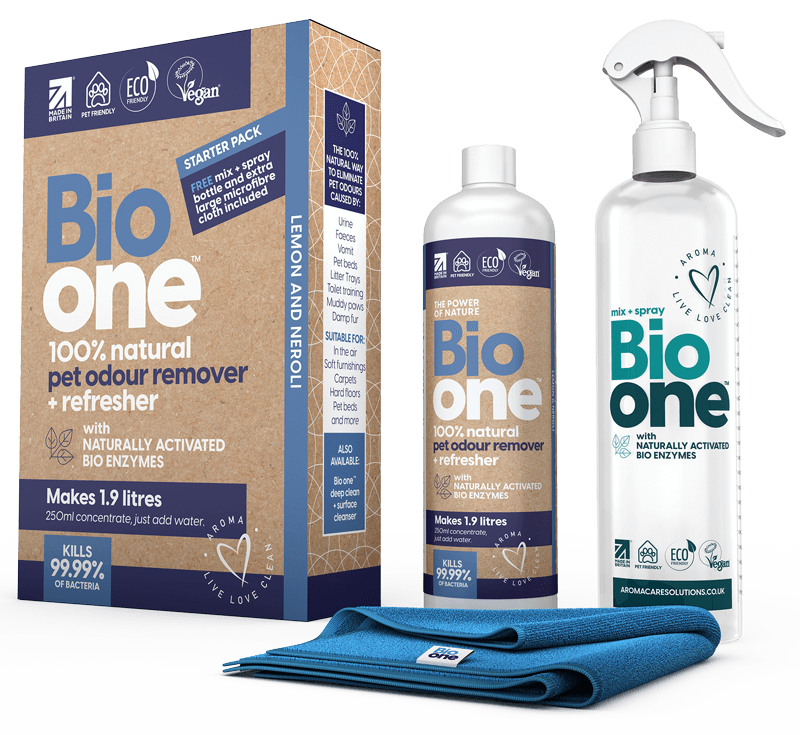 Kills 99.99% of bacteria
Pet odours be gone with Bio one™
Our award winning Bio one™ Pet bundles makes over 7 bottles of cleaning solution - thats about 380 poop and pee clean ups. Bundle is worth £25.94 but get it today for only £18.95.

DON'T MISS THIS OFFER

100%
Natural
Pet odour remover + refresher
Hints and tips to deal with pet odour
Shop Bio one™ Now

Just add
water to activate
the enzymes
with Lemon & Neroli
Pet enzyme cleaner
We know how strong and frustrating pet odour and stains can be. A powerful pet stain and odour remover is essential to tackle issues such as cat urine, dog urine, cat sick, dog sick, and much more. We've designed Bio one especially for this purpose, it's 100% safe to use around all animals, so there is no need to worry about the impact of cleaning on your pets. You can use Bio one directly on pet beds between washes to remove odour and freshen up your house in just a few moments.
Bio one is a pet enzyme cleaner, it uses 100% naturally occurring enzymes to eat away at bad odours and stains. These enzymes have been carefully designed by us at Aroma Care Solutions to make your life that little bit easier. Hungry for dirt- our eager enzymes work by dismantling the biological structures that directly cause the odour or soils. Our Bio one pet enzyme cleaner works as a dog urine neutraliser, cat urine remover and much more. It can tackle odour in the air, on carpets, on sofas, hard floors, pets bedding and many other surfaces. Bio one kills 99.9% of bacteria in a completely safe and natural way using enzyme cleaning. Eradicate airborne pongs from the dog's wet fur, kill nasty pathogens traipsed into the house by the cat, and neutralise dog urine smells. Our enzymes are prepared to tackle anything, simply add water, and shake well to activate.
The Bio one™ Pet Odour Remover + Refresher is 100% natural and toxin-free, meaning no nasties can be ingested by your beloved pet. Here at Aroma Care Solutions, we truly care.
How enzymes work
---

100% natural enzyme cleaning
SHOP NOW